---
---
2022 Starboard Generation
10 x CLIMATE POSITIVE
The Generation is the best of 3 worlds; Surfing, Racing and Touring. The Generation is basically the perfect board for a one board quiver. A true high-performance all round paddle board.
Due to popular demand, the range has expanded to 6 sizes in total to accommodate all riders' weight and skill levels.
Award-winning and the world's paddle board of choice: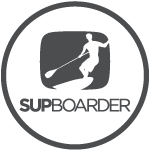 "Every paddler should own a board like the Generation"
SUPBoarder Magazine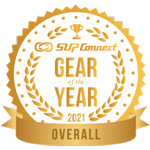 2021 Best Gear of The Year Awarded by
SUP Connect Magazine
Due to popular demand, the range has expanded to 6 sizes in total to accommodate all riders' weight and skill Levels.
A TRUE 3 IN 1 - A SIMPLE CHOICE FOR EVERY CONDITION
SURFING
It will remind you of the Longboard when surfing as the tail outline makes it respond with ease.
RACING
It will remind you of the All Star board when racing in all water conditions.
TOURING
It will remind you of the Touring board when it comes to stability and user-friendliness.
OUTLINE
Fairly parallel, which delivers a predictable and controlled glide. The wide nose delivers fast acceleration when sprinting as it floats on top of the water. The tail is pulled into a square shape, making it easier to sink for fast buoy turns and most responsive to turn sharply in the surf.
ROUND VEE NOSE
Helps lift the board to accelerate faster and maintain a higher top speed.
It also floats over chop smoothly, making it versatile to handle all conditions.
GRADUAL NOSE KICK
Helps stop the board from diving in the surf and downwind, as well as lifting over chop upwind.
The curved rocker is fast on flats, smooth in the surf and very capable in chop.
RAIL THICKNESS
Maintained throughout the entire profile of the board, giving a balanced glide from nose to tail. The Generation is thinner than a Touring and Race board, making it lighter to maneuver and easier to carry.
RAIL TUCK EDGE
Round to avoid nose catching, sharpening at the middle to create a stable platform, through to sharp edge at the tail to carve in the surf.
DEEP DOUBLE CONCAVE
Supports the round Vee with stability direct under foot.
RECESSED PAD
For comfort and stability. The flat deck makes it easy to move freely around when trimming the board and surfing on the tail.
2IN1 SHOULDER CARRY STRAP & PADDLE HOLDER
Velcro loop to attach your paddle.
Easier to carry as the board simply hangs effortlessly on the shoulder and free up your hand to multi-task, hold your coffee, or phone.
When not in use, the bungee sits flat on the board so it doesn't drag in the water.
(Comes with Carbon Top model and can be purchased after-market for ASAP and Lite Tech)
BUNGEE TIE DOWN
A Bungee tie down in front of the board for storing gear and supplies.
FCS INSERT
On the nose to attach accessories like a GoPro, phone holder, compass or GPS.
(Available only on Carbon Top models)
THRUSTER FIN SET UP
A single fin set up provides good straight-line tracking and is easy to buoy turn when racing.
A thruster set up with the 5.5" side fins proved the best combination for added drive and control to turn the board with ease in surf.
NEW SELF-VENTILATING VALVE
A self-ventilating air valve is available on the board. This valve is self-ventilating so, it should not be touched or removed – otherwise, you are at risk of damaging the valve System.
Constructions:
ASAP
AS STRONG AS POSSIBLE
Impact-resistant high-density EVA wrapping the whole rail from nose to tail.
Multiple layers of high-grade fiberglass are wetted out in epoxy resin wrapping the hull.
Australian pine on the standing area for extra impact resistance and rigidity.
Extra rigidity with the introduction of unidirectional stringer bands and solid with added rail and nose reinforcements.
Comes with shoulder carry strap inserts. Starboard shoulder carry strap can be purchased aftermarket.
Available Sizes:
NEW 12'6″ x 30″
Length: 12'6" / 381 cm
Width: 30" / 76 cm
Being the widest 12'6", it offers the best stability for riders up to 110kg. The 12'6" length being shorter is easier to maneuver on and off the water.
ASAP
AS STRONG AS POSSIBLE
10 x CLIMATE POSITIVE
Feature impact-resistant high-density thermoformed EVA foam wraps the full rails, from nose to tail together with a full 3 mm thick EVA nose deck pad.
The ASAP is perfect for clubs, schools, and families with little kids.
Model
12'6" x 30"
GENERATION
Rider Weight
55-110 kg
Length
12'6" / 381 cm
Width
30" / 76.2 cm
Thickness
6.3" / 16 cm
Tail Width
17.0" / 43.0 cm
Volume
272 L
Fin Set Up
Thruster
Fins
Center 230

 

ASAP: 8" / 20.3 cm
Side: 5.5" / 14 cm
Weight
ASAP: 15.1 kg (est)
FULL SOFT NOSE DECK
3MM thick EVA pad covers the whole nose area creating soft touch and impact resistance. The softness makes it comfortable and safe to fall down when learning to paddle and surf.
FULL SOFT RAIL
Impact-resistant high-density thermoformed EVA foam wraps the full rails.
TOEING EYE
To tie the boards together as a raft or for anchoring. Perfect for schools and clubs.
RIGID STANDING AREA
SUSTAINABLY SOURCED PINE AND GLASS
• A standing area of 0.6mm Australian Pine is added for extra deck impact resistance and rigidity.
• Extra glass reinforcements in the standing area for more rigidity.
MULTIPLE REINFORCEMENTS
Multiple layers of high-grade fiberglass with full resin wetout.
160G GLASS ON THE BOTTOM
An extra layer of 160g glass is laminated on the bottom for added durability and impact resistance.
EPS CORE – 15 KG/M³ DENSITY
Shear resistant, fused and moulded individually to fit each and every Starboard board providing high strength at the lightest weight. Our moulded core technology produces zero EPS wastage.
---