---
---
LIMA PADDLE
PADDLES THAT WIN
The direct catch and ability to redirect automatically is what makes our world champion race team choose the Lima.
Our champions boast that the Lima propels the board faster through the water.
The new standard in high-performance paddling.
NEW LIMA CNC CORE TWIN RIBS SHAPE
Reduce 15% of core volume
The ribs create blade strength and ability to cut through the water faster
(Only with prepreg carbon blade)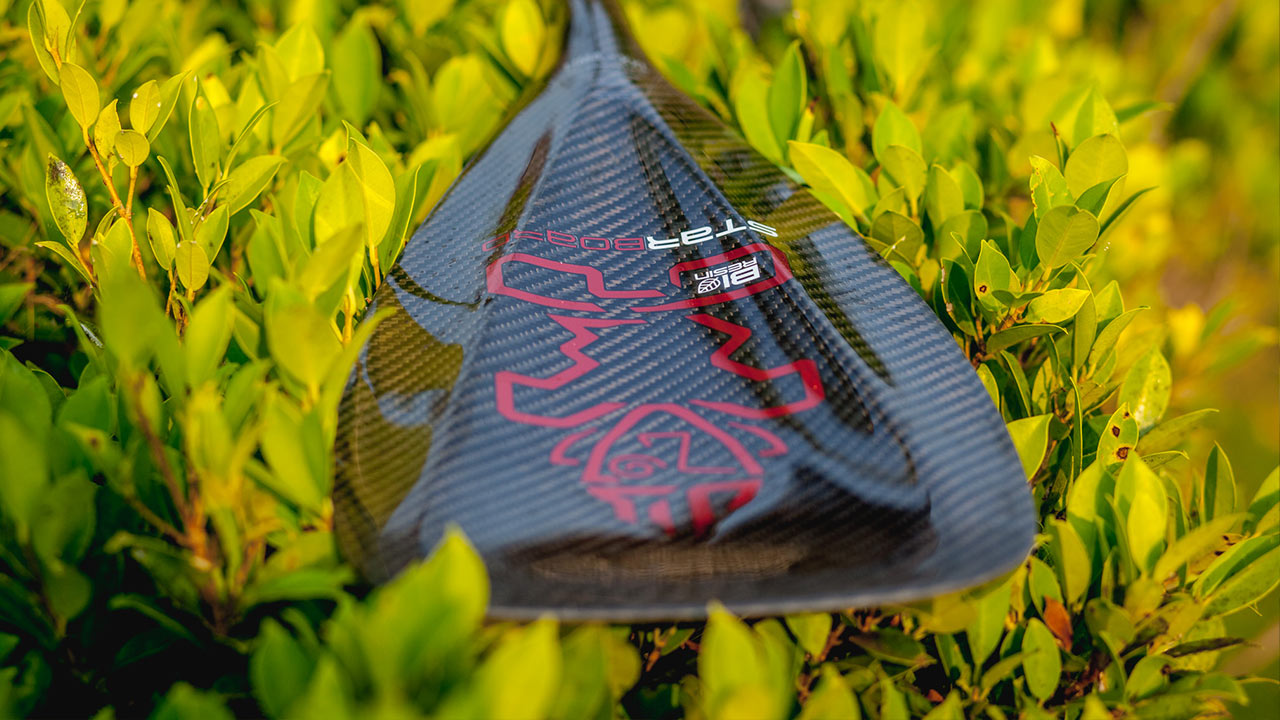 THE CONCAVE
The concave on the power face is guiding the water throughout the blade controlling the wobbling and increasing the water flow speed.
The edge defining the concave starts round-shaped at the tip of the blade to separate the water smoothly. It then becomes sharper to dictate the water its path and stabilize the blade.
All your power is transferred in a straight forward motion as you don't need to worry about paddle alignment in the water anymore.
BLADE ANGLE
Unique Profile
The lima has a unique narrow and flat profile allowing you to pull the blade very close to the rail of the board, giving it a really nice line. Combine to a 10° angle, the power phase is very efficient making all your energy going in a straight forward motion.
SUPER HANDLE
The new Super Handle changes the way we paddle
The flat top and wide grip create new powerful leverage of the whole paddle and the blade
One can steer the paddle on slight angles and remain with full power
Especially good for side winds and keeping the board on the course you may set.
THE TRASH PICKER
Comes With Every Paddle
Use the trash picker as a helpful tool to pick up plastic and other trash while paddling. It's made from recycled plastic and comes with every paddle. Store the trash in a bag or pocket it until you reach the shore.
BLADE CONSTRUCTIONS
CARBON
AMAZING VALUE
Full cover 3K Carbon lamination to create extra low weight, maximize strength and high reflex characteristics.
Carbon filament rail infusion for impressive impact strength.
Lightweight PVC core
All sizes paired with Carbon Shaft


SHAFT CONSTRUCTIONS
NEW CARBON SHAFT
Lightweight and durable for both wave and touring sessions.
The Carbon fibers are filament winded with the most precise amount of resin infusion.
FLEX OPTIONS
S35 – STIFF
Popular with taller paddlers using a longer shaft.
Available in Fixed Round Prepreg Carbon,
Adjustable Prepreg Carbon and Carbon
Except Skinny and Kid.
SHAFT SHAPE
OVAL
Precise and controlled grip.
Shaped to naturally fit in the hand for the most direct tracking and alignment.
No sharp angle.
Available in S35/40/45 Fixed Prepreg Carbon and S40 Fixed Carbon.
ROUND 29 MM.
The lightest and most versatile shaft.
Preferred for all round paddling and waves.
Zane Schweitzer and Sean Poynter's choice for wave riding.
Available in S30/35/40/45 fixed Prepreg Carbon, S35 adjustable Prepreg Carbon,
S40 fixed Carbon and S35 adjustable Carbon
ROUND 27.5 MM.
Perfect grip for long distance.
Available in S35/40/45 Fixed Prepreg Carbon and S40 Fixed Carbon.
SKINNY 26 MM.
Reduced Diameter shaft (RDS) for lighter riders who require a smaller grip.
Suited for kids, women and racers who want a shaft that feels slight in the hand.
Available in S40/45/50 fixed Prepreg Carbon, S40 adjustable Prepreg Carbon and
S40 fixed Carbon, adjustable Carbon
ADJUSTABLE SHAFT
TIKI SUPER SMOOTH CLAMP
SHAFT REGISTER SYSTEM
Lever with superb open / close sensation
Redesigned clamp, from good to great.
100% of grip on inner shaft for an effortless and optimum grip.
Reduced water infiltration.
Controls the alignment without twisting.
EASY LOCK PIN
The combination of precision cuts and tight tolerance between inner and outer shaft dimensions, let the light secure pin keep the shaft together, feeling and working like a single piece shaft.
(Available on 3 piece adjustable shaft)
GROOVED INNER SHAFT
The grooved inner shaft on adjustable paddles ensures our paddle handles are straight with anti-twist.
(Available on Lima and Enduro. Not available on Lima Tufskin)
2 PIECE ADJUSTABLE SHAFT
Is great for paddlers looking for different paddle length or sharing the paddle with friends and family.
The wide Tiki Super Clamp for a quick and effortless release.
The skinny rounded and flush clamp ensures that your hand never gets stuck on a hard corner when shifting grip.
2pcs adj Giant Hybrid shaft increase +30 cm. long. For paddlers who need extra length. *Pre-order only
HOW TO TAKE CARE OF ADJUSTABLE SHAFT
Do not pull the inner shaft out further than the "maximum" point indicated on the shart.
AVAILABLE SIZES
SPECIFICATIONS TABLE
| | | |
| --- | --- | --- |
| Lima Paddle | L | M |
| Blade Length: | 21.1" / 53.7 cm | 20.9" / 53.3 cm |
| Blade Width: | 6.7" / 16.9 cm | 6.3" / 16 cm |
| Area: | 88 in2 / 567 cm2 | 83 in2 / 534 cm2 |
| Fixed shaft total length: | 86.4" / 219.6 cm | 86.3" / 219.2 cm |
| Min adjustable length: | 64.2" / 163.3 cm | 64" / 163 cm |
| Max adjustable length: | 88" / 223.5 cm | 88" / 223 cm |
PADDLE WEIGHT
Weight tolerance +/- 5%
For every board sold, we plant a mangrove tree, absorbing one ton of CO2 over 20 years.
Buy a board & we pick up 1.1kg of beach/ ocean plastic trash – equivalent to the amount of plastic trash entering the ocean, per person, per year.
To explore more about Starboard's environmental initiatives, please visit our Blue website:
---